Back to search results
DAIMLER DART SP250 - £POA
We are pleased to have been entrusted with the sale of one of the most prestigious Daimler Darts in the World. UGS 5 was delivered on the 25th May 1963 to the Queens cousin, The Countess of Strathmore of Glamis Castle in Scotland, supplied by Rossleigh in Royal Red with Black leather trim in rare automatic form. The Royal owner covered just 5000 miles in five years of ownership before a further two owners in Scotland took the mileage to 50,000. In 1976 the Daimler was purchased by a prominent Award Winning Motoring journalist, TV presenter and producer who notably owned the car for over 40 years. Having sold the Daimler 'off market' two and a half years ago on behalf of the cars long-term owner, we are now delighted to offer this unrepeatable opportunity to purchase this unique Daimler Dart that now records a warranted mileage of just 66,000 miles. This is the first time UGS 5 has been offered onto the open market in over 40 years, and its likely to attract the interest of collectors across the globe.UGS 5 is a matching numbers car that comes with an incredible history file that includes the original Daimler Manufacturer's Warranty card, brown 'buff' logbook and many letters and correspondence between early owners, including detailed letters from the long term owners family during the 1970's. Further paperwork includes MOT certificates and tax discs dating back to 1976, maintenance and service invoices dating back to the 1970's, invoices and photographs from a full body off restoration in 2009 and a press file including copies of many magazine, newspaper and media articles.Having owned the car across four decades with absolute pride, It's long term owner had gone on record to say that having owned literally thousands of cars, UGS 5 is the only one he has never dreamt of selling. Classic Cars Magazine closely covered the restoration programme where it was noted that restoring something with royal provenance and only 60,000 miles had presented a raft of difficult dilemmas. The C Spec Automatic Daimler Dart was used in the late 1970's throughout its long term owners University years, but whilst distracted by a Jaguar E-Type, rather than sell the Dart, the now prominent motoring journalist laid it up in his parents garage. UGS 5 then spent 30 years off the road before a no expense spared restoration commenced in 2009. The car was transported to Dart specialists Autotec where the car was completely stripped to the bare chassis. The chassis was completely restored, zinc plated and powder coated whilst the engine, gearbox and rear axle were stripped and rebuilt. Being a completely original car, undisturbed factory paint was evident and the 60,000 miles from new engine had never been opened up. The dilemmas related to whether standard equipment should be upgraded and after careful consideration drivability/usability had to come first so steering was upgraded to rack and pinion, the radiator upgraded, a high torque starter fitted and an alternator conversion was also carried out. Part way through the restoration, the plan changed slightly as the original intention was to keep the aged factory finish paint in place. However, with the Dart's chassis, engine, gearbox, suspension and running gear all looking immaculate and ready to grace a motor show turntable, it did not seem right to drop the bodyshell back on the chassis with its aged, scratched paintwork.The dilemma now was to consider where patina ends and scruffy begins. The decision was made to professionally prepare and re-paint the body off the car and achieve a first class finish inside and out with detailed engine bay and door shuts. The Dart body was then bolted back onto the chassis and ready for a new wiring loom, door handles, bumpers, grill, glass and the re-fitting of the totally original interior trim. Final touches included new wheels and tyres, hood and many detailed items required to finish the car to the highest of standards. The only area untouched during restoration was the interior, a decision made simply because its classic car fanatic owner could not face sacrificing the nicely mellowed patina.Still retaining discrete coronets on the door and a small hole in the bonnet from its Royal ownership, the Dart has arrived with us in glorious condition and press reports in the history file confirm having rolled out of the marque specialists workshops, the car did not miss a beat requiring no snagging, fettling or adjustments which is real testament to the restorers. Having carried out a test drive on arrival, this stands out as the very best Dart we've had the pleasure of selling. Being an automatic version and therefore when in 'D' only uses two gears, it is very lively on the road with a good kick down and unlike a V850 saloon does not seem low geared at higher speeds.
0 Miles
MANUAL
RHD
RefCode: B1EDB064-6946-6EEB-B113-D8AB148CEA70
Other Classic Daimler Dart Cars for Sale
The latest classic Daimler Dart cars for sale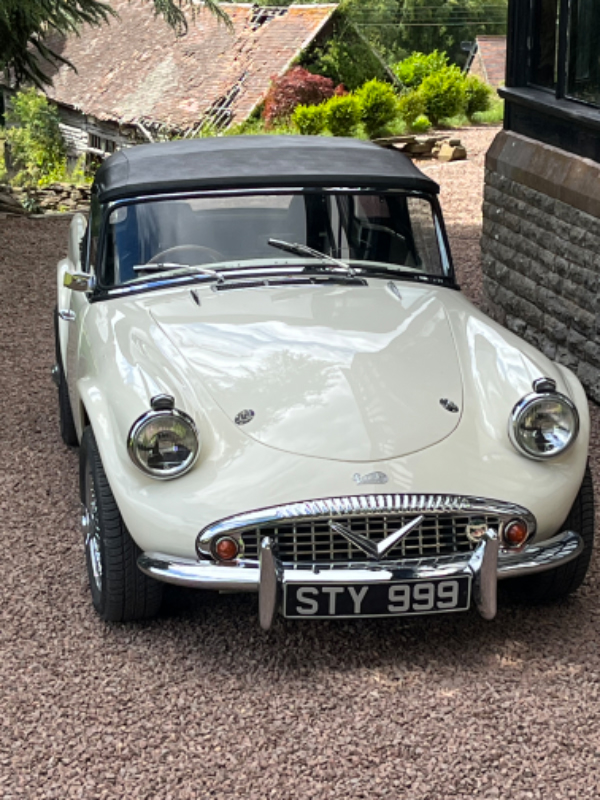 Sponsored Ad
1960
£42,750
25000
N/A
RHD
Refcode: 331388
Fabulous body off restoration with full B spec chassis, rack, alloy rad, servo, alternator, elec ...
Sponsored Ad
£59,995
0
MANUAL
RHD
Refcode: 311464CA-961C-6A5F-B52E-D89501CEBF5D
We are delighted to offer this unrepeatable opportunity to purchase a very special Daimler...
Sponsored Ad
£59,995
0
MANUAL
RHD
Refcode: AC68EF02-BB32-6EFF-9A4C-90AB7B123EB5
This stunning, top-quality Daimler Dart was first registered on the 1st January 1963 and i...
The latest classic Daimler Dart cars for sale