Back to search results
BENTLEY 4.25 LITRE DHC - £295,000
1937 Derby Bentley 4 1/4 Disappearing top Drophead Coupe, H J Mulliner.Chassis number: B-79-KURegistration number: CVB702 (UK) 0AYR414 (Belgium).This is a particularly desirable example of a 4.25 Derby Bentley with fabulous disappearing top coachwork by noted Chiswick based builders H.J. Mulliner & Co. The car has recently been repainted at considerable cost & is finished in midnight blue paintwork done to a very very high standard. To the interior is brand new Vaumol beige connoly hide throughout along with new carpets. Great attention has been given to the interior retaining the original feather stuffing from the seats & adding to it where required to build up the right profile. No modern staples have been used with the leather instead having been hand tacked to the seat frames as was done when new. All woodwork has likewise been removed & beautifully refinished to a semi gloss finish.The history is complete from 1937 and includes the majority of repair invoices over all the years as well as various articles and archive details are on file. New ash wood was let into the frame around 1980 to replace sub standard sections needing attention.The car is the H.J. Mulliner 1937 Earls Court Motor Show Bentley display car and features the very attractive flowing body lines style due to its "concealed head". £4,000 has recently been spent at Marque specialist C.J Ford Engineering to prepare it for a continental trip which it performed with aplomb. The car is due now back to us in our showroom. It has resided for the last four years in a prominent Belgian collection keeping company with other assorted Bentley, Jaguar, Rolls Royce & Aston Martin cars where it has been kept on the button & maintained without regard to expense whilst being little used.This car drives particularly well. The engine rebuilt by Alpine Eagle is silent smooth & powerful befitting of the monniker "The silent sports car." It runs cool & exhibits excellent oil pressure. 70MPH is easily attainable & I have to say this is one of the best driving Derby's I have experienced. It comes with a plethora of paperwork showing the work done to it over the years. It also has a 1937 Earls Court motor show catalogue at which the car was featutred on the H.J. Mulliner stand. There is also considerable hisroty with it relating to its time in the USA. In addition to Belgian & UK registration papers there is also an American title on file with the car.Call Richard Biddulph. Mobile ++44 (0) 7967 260673Simone Della Corte Mobile ++44 (0) 7377070943 Si Parla ItalianoUK & Italian sales.Mike Kliebenstein 0049 170 2043831 Deutsch GesprochenGeman, Austrian Swiss & Southern European sales.Jan Kurty 07872 932675 hovori cesky, slovensky, polskyEastern Europe Sales.Vintage & Prestige of Northampton Ltd.richard@vandp.netwww.vandp.netShowroom:2 Ryehill Ct, Lodge Farm Industrial Estate, Northampton NN5 7UAService & Trim:Unit 29, Globe Industrial Estate. Grays Essex, RM176STViewings & Visits Strictly by appointment only please. We have on site long term storage for over 200 cars with 24 hour security & covered trailer delivery to customers anywhere in Europe.
80000 Miles
MANUAL
RHD
RefCode: 381E4F4D-7FCF-6BB8-954A-B15CDBB9DC9E
Other Classic Bentley 4.25 Litre Cars for Sale
The latest classic Bentley 4.25 Litre cars for sale
Sponsored Ad
£155,000
0
MANUAL
RHD
Refcode: 91DD1F36-EF6E-6F02-A99E-A8C19B0DF2A0
An absolutely lovely four door open Derby Bentley, re-bodied in 2006 by Steve Penny to a d...
Sponsored Ad
£110,000
40000
MANUAL
RHD
Refcode: 25B01C01-8D66-6892-8BBA-066B74E13CBF
1937 Derby Bentley 4.25 litre special.Registration Number: AVH200Chassis number: B-17-KUA ...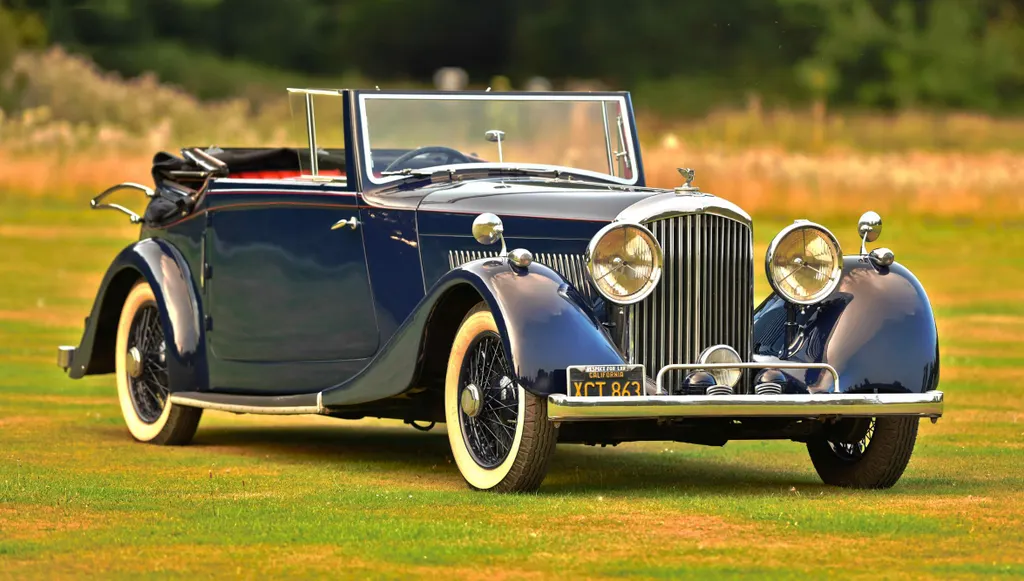 Sponsored Ad
£135,000
12122
MANUAL
RHD
Refcode: 87979153-E3F8-683B-8617-39F1660C1011
The latest classic Bentley 4.25 Litre cars for sale