Back to search results
BENTLEY 3.5 LITRE DERBY - £90,000
1934 Hooper Derby Bentley 3.5 CabrioletChassis number: B-92BNRegistration Number: BLN33Ordered new from Hooper in 1934 by one Doctor Barbara Sprott of Onslow Square. The car comes with the original Hooper blue prints for an elegant Derby 4 door saloon. In 2005 The cars' roof was removed & the car converted to 4 door cabriolet specification with a cunninlgly concealed hood folding away into the former luggage area under a flip up lid. Roof up the Luggage area is still useable for a pair of suitcases. Pleasingly the original doors, handles & body stucture from Hooper was retained so in effect the car carries its original coachwork which has been modified to cabriolet form.The coachwork is finished appropriately in British racing green. To the interior is lightly patinated tan leather along with tan carpeting & a matching brand new tan roof.Masses & masses of bills come with the car....far too much to photograph in its entirety; the bills being from all the right people. To wit: Fiennes engineering for a full & comprehensive engine rebuild. Hofmanns of Henly for a high ratio rear axle giving the car 12.5% more top end making it very relaxed at modern speeds. Sargeants of Goudhust for years & years of regular servicing. Kingham restorations for the coachwork modifications. Marque specialists Frank Dale & Step Sons for recent servicing.The best part of this car is the way it drives. Very long legged due to the rear axle gearing change the car might well be mistaken for a 4.25 litre car & is certianly as quick or quicker then many heavier bodied 4.25 litre cars. The one shot system has had attention & is functioning as intended. The car starts readily & pulls strongly in all gears with 70MPH easily attainable.Eminently practical as a 4 door cabriolet the interior when the roof is up is a snug & pleasant place to be. 4 good Blockley tyres are fitted to the 4 corners which have ace wheel discs fitted as when new. The spare is in situ to the rear covered in an aluminium disc as when new.Call Richard Biddulph. Mobile ++44 (0) 7967 260673Simone Della Corte Mobile ++44 (0) 7377070943 Italian Spoken.Michael Kliebenstein 0049 170 2043831 German spokenSales & ValuationsVintage & Prestige of Northampton Ltd.richard@vandp.netwww.vandp.netShowroom:2 Ryehill Ct, Lodge Farm Industrial Estate, Northampton NN5 7UAService & Trim:Unit 29, Globe Industrial Estate. Grays Essex, RM176STViewings & Visits Strictly by appointment only please. We have on site long term storage for over 200 cars with 24 hour security & covered trailer delivery to customers anywhere in Europe.
100 Miles
MANUAL
RHD
RefCode: FE8C1D94-E57A-69EA-9917-5458C316B2D8
Other Classic Bentley 3.5 Litre Cars for Sale
The latest classic Bentley 3.5 Litre cars for sale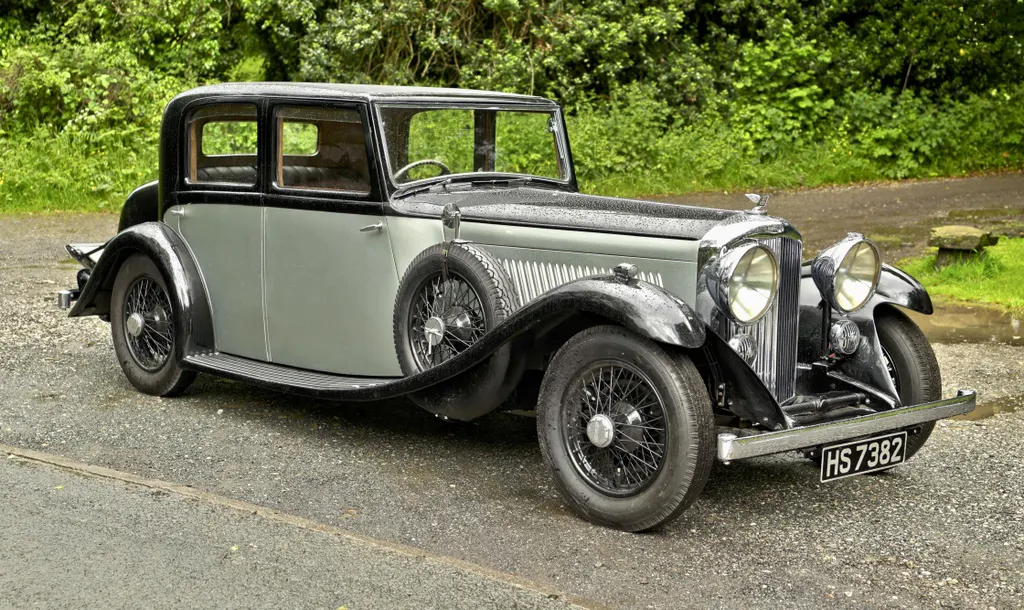 Sponsored Ad
£56,000
10000
MANUAL
RHD
Refcode: 7180BDDE-E414-6B17-A39D-81439AE48CF5
1934 Derby Bentley 3.5 Litre H.J. Mulliner Sports Saloon.Chassis number: B-184-AHRegistrat...
The latest classic Bentley 3.5 Litre cars for sale