Back to search results
1995 AUDI RS2 - £40,000
The iconic Audi RS2; if you're looking at this, you probably know a little about these cars. Very rare, only 183 RHD made, of which only a handful are currently registered on the road in the UK. 2.2L 5cyl turbo 315bhp standard tune. Original Porsche Cup alloys with a set each of Audi and Porsche centres. Since I've owned this Ragusa Green example, I've worked through the things that were lacking when I bought it. Full timing belt service by AM Cars in April 2017 to include new fuel lines, radiator & thermostat. Since then, the following have been replaced; coil packs, heater matrix, lower door trims, interior head lining, MTM remap to address immobilliser fault (now 330 bhp), do88 turbo inlet hose, Goodridge brake hoses all round, vacuum check valve, all callipers fully refurbished to original spec by BCS Automotive. HID headlight conversion (original parts kept). Service history: 4/4/96 20256 miles Caffyns Audi, 5/9/96 30557 miles Caffyns Audi, 14/2/97 40506 miles Caffyns Audi. 29/5/97 50000 miles Caffyns Audi, 4/12/97 59901 miles Caffyns Audi, 22/7/98 69273 miles Caffyns Audi, 10/6/99 79273 miles Audi Portsmouth, 10/5/00 92076 miles Audi Portsmouth, 17/3/01 102297 miles Ecotune, 30/7/01 105268 miles Ecotune, 12/11/01 115000 miles Ecotune, 6/6/02 128000 miles Ecotune, 7/1/04 136000 miles Ecotune, 19/7/04 145000 miles Ecotune, 13/1/05 155454 miles Ecotune. My ownership; 24/4/17 166965 miles AM Cars Cam belt etc, 5/11/18 170294 miles Racecourse Garage, 10/4/19 172742 miles Racecourse Garage, 20/8/20 174546 miles Racecourse Garage. This is a solid example of a rare and appreciating classic. Full black leather & carbon fibre trim, original floor mats, all electrics work as they should with the exception of the trip computer - this is a common issue with cars of this vintage and there is no easy solution as any replacement units tend to be in kms. There is a small surface rust patch by the tail gate gas strut fitting, near side, which I intend having sorted before sale, but will negotiate accordingly if I haven't managed to get it done by then. Thank you for your interest.
175000 Miles
MANUAL
RHD
RefCode: AETV33985589
Other Classic Audi Rs2 Cars for Sale
The latest classic Audi Rs2 cars for sale
Sponsored Ad
€85,000
80359
MANUAL
RHD
Refcode: AETV47702055
315 HpOldtimerfarm:Oldtimerfarm is specialised in the consignment sale of classic cars and...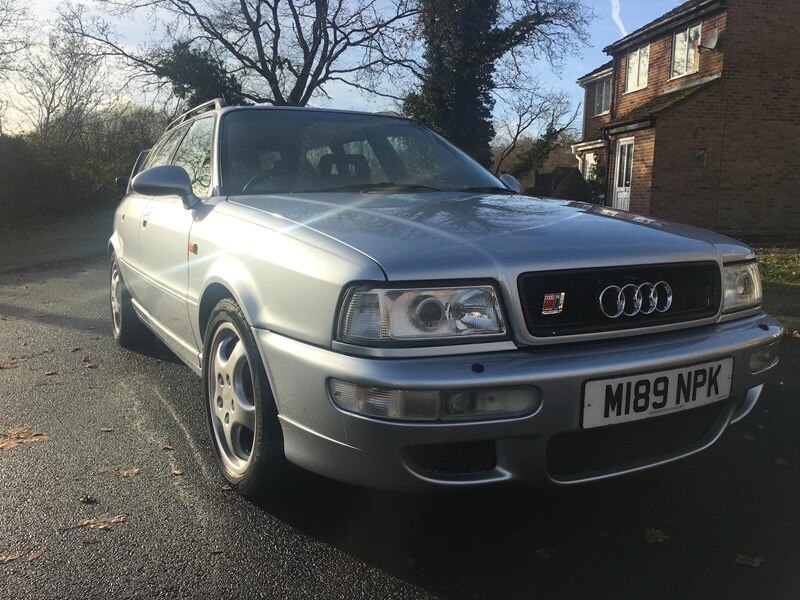 Sponsored Ad
£46,500
145000
MANUAL
RHD
Refcode: AETV80949573
The latest classic Audi Rs2 cars for sale